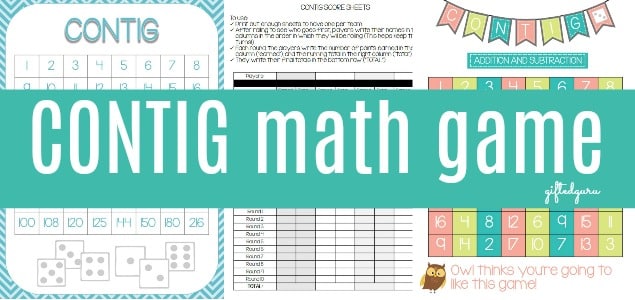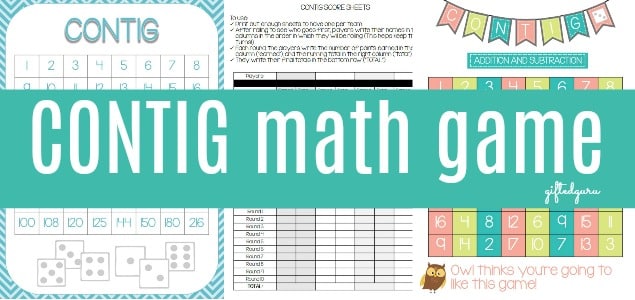 I love CONTIG, the math game that requires nothing more than the board, some dice, and a score sheet.
I learned about at a conference years ago, and it's been a fave ever since. It's a great game because it works equally well for families and classrooms.
How to Play CONTIG:
After printing the board and gathering dice, players roll three dice and have to use the common operators (x, ÷, – , + ) to get their dice roll to equal the number in an available space on the board.
They get a point for that space, as well as for any adjacent squares that touch the sides or corners of their square. That's where it gets its name: contig (ous).
You can play with 2-4 players, and it is self-adjusting, so more advanced students can play with less advanced ones.
There are a few other rules, but it's super simple. You can print it out and be playing in less than five minutes.
Where to Get the CONTIG math game:
I put together a CONTIG printable that has multiple boards, as well as a score sheet and instructions.
This board is for the itty-bitties who need just addition and subtraction. It's got far fewer numbers, and none of those go above the sum of the three dice (18).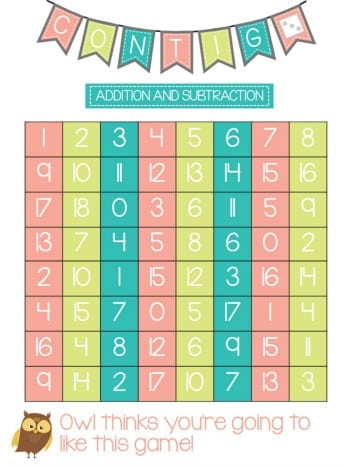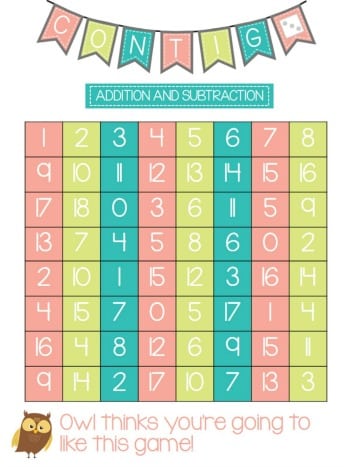 And this board is for those who can use all four operators.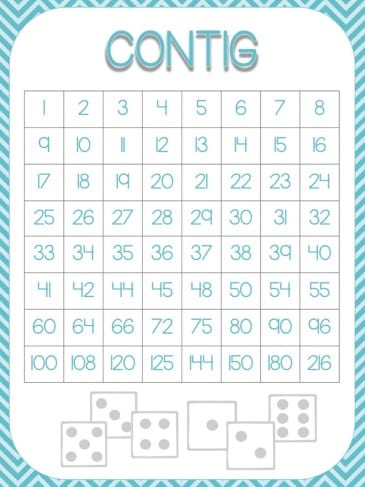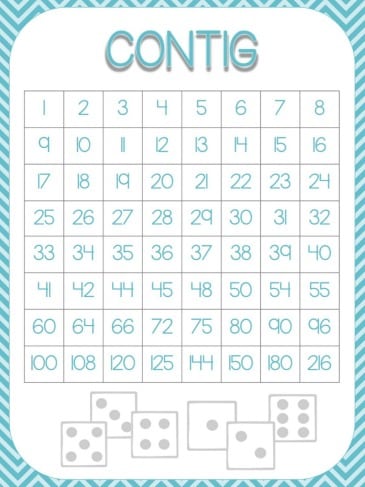 I even included ideas for differentiating it for gifted learners (because that's how I roll – get it, roll? the dice?)
The instructions are included, as well as my nifty scoring sheet.
It's Common Core aligned, if that's something you need to pay attention to, and it matches all other standards systems, too.
How CONTIG came to be
I received an email from a retired math professor who said I'd done a good job explaining the game … that he invented!
I was so curious because there are so many, many things that find their way into the pedagogical canon and lose their provenance along the way. I was curious and asked him to share more.
Dr. Frank Broadbent wrote back and explained:
"This was part of a grant – the Central Iowa Low Achiever Math Project. One of our approaches was games. We developed or adapted them. We used many card games, but the results were disappointing. The government would not allow us to copyright our best games. The only highly successful one was Contig.
A search will show many entries.
My original article is available here, and my blog is Contigmathgame. Back then there were very few teaching math games." – Frank Broadbent
I'm sharing it here for free, so simply print and go! Check out his blog for a couple of variations!
Roll On!

If you like this, you may like these posts: