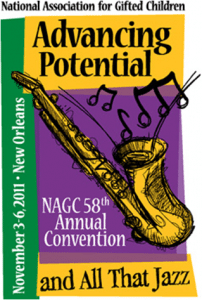 The  NAGC Conference is a big event in the Big Easy. I'm having a great time learning from people like Josh Aronson and others.  My head is swimming from all I'm taking in. The passion here is awesome!  The Creativity Network's Mardi Gras Night was out of this world.  There is so much energy when people who are committed to kids get to connect with each other.  If you care about gifted kids, join NAGC and get involved.  And be sure to plan to come to Denver next year.
Here's the prezi for my presentation:
To download the handout from my presentation, click
here
.