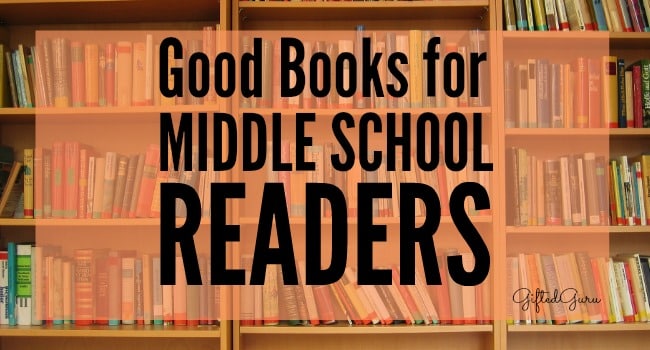 Finding good books for middle school readers can be tricky (and if those readers are gifted, it's doubly so).
A parent recently asked me for suggestions, so I've curated this list.
The list has two things: titles of books I recommend, and also places to find lists of good books for middle school readers with specific interests.
Good Books for Middle School Readers
Specific Books I Recommend
These are specific titles I recommend, in alphabetical order by title. These recommendations are for books I feel accomplish at least one of the following:
Promote social growth and understanding
Resonate with gifted kids
Celebrate resilience
Encourage personal strength & fortitude
Contribute to the cultural conversation
I only recommend titles I've read, and I've tried to keep the list to a manageable size!
Anne of Green Gables by L.M. Montgomery
The Black Stallion by Walter Farley
A Day No Pigs Would Die by Robert Newton Peck
Ender's Game by Orson Scott Card
From the Mixed-Up Files of Mrs. Basil E. Frankweiler by E.L. Konigsburg
The Giver by Lois Lowry
Hatchet by Gary Paulsen
The Hobbit by J.R.R. Tolkien
Homer Price by Robert McCloskey
Island of the Blue Dolphins by Scott O'Dell
Julie of the Wolves by Jean Craighead George
Lightning Thief by Rick Riordan
Little House on the Prairie by Laura Ingalls Wilder (entire series)
Little Women by Louisa May Alcott
Matilda by Roald Dahl  
Misty of Chincoteague by Marguerite Henry
My Side of the Mountain by Jean Craighead George
The Penderwicks by Jeanne Birdsall
Watership Down by Richard Evans
Where the Red Fern Grows by Wilson Rawls
The Witch of Blackbird Pond by Elizabeth George Speare
A Wrinkle in Time by Madeleine L'Engle
Challenges
Challenges for middle school readers include:
Read 10,000 pages (or 100,000)
Read 26 books with titles beginning with every letter of the alphabet ("x" can be anywhere in the title)
Read a book with authors from all 50 states
Try this 50-Book Challenge
Read all of the Newbery winners
List of Books on Special Topics and Ideas
These are links to lists others have curated on specific topics:
If you've got suggestions for good books for middle school readers or other topics they like to read about, please, please share in the comments!
If you liked this post, you may like:
You may also enjoy my monthly newsletter. It has resources, tips, a freebie, and the quote of the month with discussion questions. You can sign up anytime.