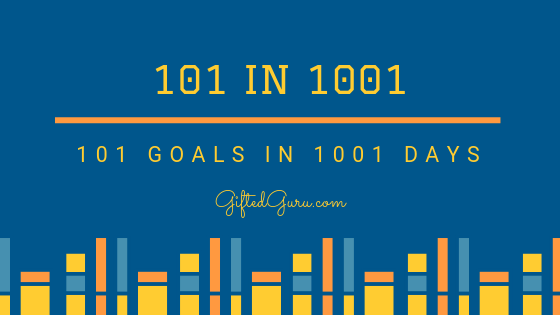 This is the page where I'm tracking my progress on my 101 in 1001 project. You can read the first blog post here.
If you're unfamiliar with 101 in 1001, you can learn more about it at the Day Zero Project.
Start date: January 21, 2019
End date: October 18, 2021
Personal Development
Read 200 books [Every Last One by Anna Quindlen; The Library Book by Susan Orlean; How to Talk to a Widower by Jonathan Tropper; Lady Almina and the Real Downton Abbey by The Countess of Carnarvon; Girls of Glass by Brianna Labuskes; Heads in Beds by Jacob Tomsky; Remains of the Day, by Kazuo Ishiguro, A Dog's Purpose by W. Bruce Cameron]
Get to 100% fluency in German on duolingo
Read 25 books I already own
Read 15 business books
Read 10 books from Joseph's library
Read 10 books I should have read by now but haven't
Re-read all of Harry Potter (3 -7)
Ask 20 friends to recommend books and read them all
Read an entire book in one day
Complete reading Goodreads' 100 Books to Read in a Lifetime
Complete the PowerPoint class in Udemy
Listen to 10 audio books
Finish memorizing James 1
Memorize 50 more verses of scripture
Get CPR certified
Learn to draw map of US
Learn to draw map of the world
Memorize the Relief Society Declaration
Family History
Complete Write Stuff genealogy writing class
Complete Write Stuff II genealogy writing class
Complete the DAR genealogy class
Speak at a genealogy conference
Watch 30 genealogy webinars
Record 5 tutorial videos for genealogy
Complete Gates Family descendency project
Publish Gates Family descendency project
Solve DNA mystery
Complete Abigail's Children of the American Revolution application
Write a children's book on a story from our family history
Help ten people with their family history
Volunteer at the Family History Center ten times
Index 1,000 names from records (reach 1,425)
Find additional child of Amasa Lane
Find parents of Adaline Lane
Find parents of Angus Russell
Find parents of George Morey
Find connection of Joseph Russell to Angus Russell
Scan all information from family Bible
Professional
Move email list to Convertkit
Change website to landing page format
Post every week for a year (52 posts)
Get eight posts ahead in blog posts
Publish Living Gifted: 52 Tips for Surviving and Thriving in Giftedland
Write Underachievement book
Create and record 20 professional development training hours
Complete the Pinterest course
Review all books sent from publishers for review
Optimize/revitalize all old posts
Create 30 Depth & Complexity activities
Create EngagedCE courses
Write Depth & Complexity book
Attend an NSA video lab
Create page for speaker information
Read all information in best-seller bundle
Read all ebooks on business ideas I've saved
Create an ebook from my most popular blog posts
Create a video with Doodly
Answer 15 reader Q&As
Family
Send family email every week for three months
Send flowers to each of my great-aunts for no reason (Ali, Betty
[1/25/29] , Cate)
Record the Book of Mormon for my family
Set up a 529 for Abigail
Update the family cookbook
Visit great-aunts in New York
Set up sufficient water storage
Update 72-hour kits
Put sufficient cash in 72-hour kits
Put emergency kits in cars
Home & Organization
Paint master bedroom
Kon Mari the garage
Get coat repaired
Organize Google Drive folders and documents
Completely organize all digital files
Scan all of Grandma's photos [1/27/2019]
Organize and clean the attic
Donate unwanted cookbooks
Health & Fitness
Go sugar free for an entire month
Track on WW app for 30 days straight
Get 10,000 steps a day for 30 days straight
Complete a dance class 3x week for a month
Get to pre-Gregory weight
Complete a couch-to-5k running plan
Complete a Walk to Mordor challenge
Do 50 pushups in a row
Financial
Go one year without buying clothes
Go one year without buying makeup
Go one year without buying books (just read from library, books given as gifts, and books from home library)
Save $15,000 towards Steve's new car
Give $100 to a young mom who is a stranger
Go one week without spending any money
Save $10 for every task I complete on this list
Raise 401k to maximum
Donate money to humanitarian fund
Keep perfect track of business expenses for one year
Complete a no spend month successfully
Travel
Visit five temples
Visit all temples in Texas
Attend Roots Tech
Visit Alaska
Take all daughters-in-law on a special trip
Visit a new state
Visit the family in Australia
Go carless for a week
Brody
Walk Brody every day for one month straight
Teach Brody a new trick
Fun
Host a Harry Potter movie marathon
Host a Lord of the Rings movie marathon
Leave a 100% tip for great service
Throw a surprise party
Send 100 birthday cards
Host a book exchange
See 10 classic movies I've never seen
Have people over for dinner ten times
Buy a fiddle-leaf fig
Host a game night
Gratitude
Identify five people who have helped me and write them thank you notes
Send letters to all great-aunts thanking them for their role in my life
Write Steve a letter of thanks for his being a wonderful father to our children
Give out 10 gift cards to people who help me while I'm traveling
Do 10 random acts of kindness in a single day like this mom.